Welcome to Associated Pilots Inc (API)
API is currently looking for new members!
When you join API, our Bedford, MA (KBED) flying club, you OWN a share of the airplane you fly and there is no comparison to the pride of taxiing into the ramp when it is YOUR plane. Our buy-in and operations costs are very reasonable. We have great availability of both airplanes through a slick web based calendar where our small group (15-18) books each plane. You can drive your car right into the hangar. No unloading in the rain and snow!
Since 1948, API has been serving Boston area pilots. The club is run entirely by its members.
Our planes are very well equipped and maintained, with WAAS Garmin GNS systems in each. Over the last few years members of API flew the C-182 and the C-206 from our BED hangars to destinations like Oshkosh, WI, Cleveland, OH, Newfoundland, and even the Cayman Islands! You worked hard for your rating, and now it is time to start really flying. For complete membership details click on our About page, then Contact Us today to start the process of joining one of the longest running flying partnerships in the United States.
API is listed on AOPA's Flying Club Finder website. Take a look and see if you can find another club with this much utility. A thousand pounds of full-fuel payload is very rare in light singles.
Cessna 182 N97533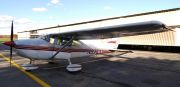 1979 Cessna 182Q
4 Seats
140 kts, constant speed prop
1280 lbs useful load, 760 lbs with full fuel
88 gallons useful fuel
1000+ nm range
Garmin GFC 500 dual axis autopilot with envelope protection, dual G5 flight instruments with HSI, Aera 660 with weather and traffic, GNC 430W, GTX 330ES ADS-B Out
Cessna 206 N756PY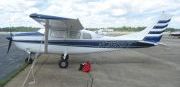 1978 Cessna U206G
6 Seats
135 kts, constant speed prop
1460 lbs useful load, 1030 lbs with full fuel
72 gallons useful fuel
800+ nm range
Garmin GFC 500 dual axis autopilot with envelope protection, dual G5 flight instruments with HSI, Garmin 530W, Avidyne TAS620 Traffic, Stormscope lightning detection, GTX 345ES ADS-B In/Out and Bluetooth (connect to tablet with Garmin Pilot or Foreflight to display traffic and weather)